4 Window Treatments That Lower Utility Costs
If you're looking for a home improvement project that makes a big impact on your décor, new window treatments fit the bill nicely. But did you know they can also help lower your monthly utility bill? It's true! In this post, we look at four window treatments that lower utility costs.
How Window Treatments Lower Your Power Bill
Your home's windows are both functional and beautiful. They block out elements like wind and rain while letting in natural light. And, of course, they allow you to enjoy the beauty surrounding your home. Unfortunately, windows also cause your home to lose heat in the winter and absorb heat in the summer.
According to the U.S. Department of Energy, over three-quarters of the sunlight entering your home during the summer months becomes heat. In the wintertime, around 30 percent of heated air escapes through those same windows.
While most window coverings offer some level of insulation for your windows, the following four are the rock stars of energy savings.
Thanks to their attractive, unique appearance, shutters are incredibly popular. But that same unique design is why they're great at keeping out summer's burning sun. Their adjustable, louvered panels allow you to control how much natural light enters the room.
Shutters also offer a level of insulation not seen with most window treatments. That's because they're installed to the window frame, which creates a nice barrier that helps keep treated air inside the home.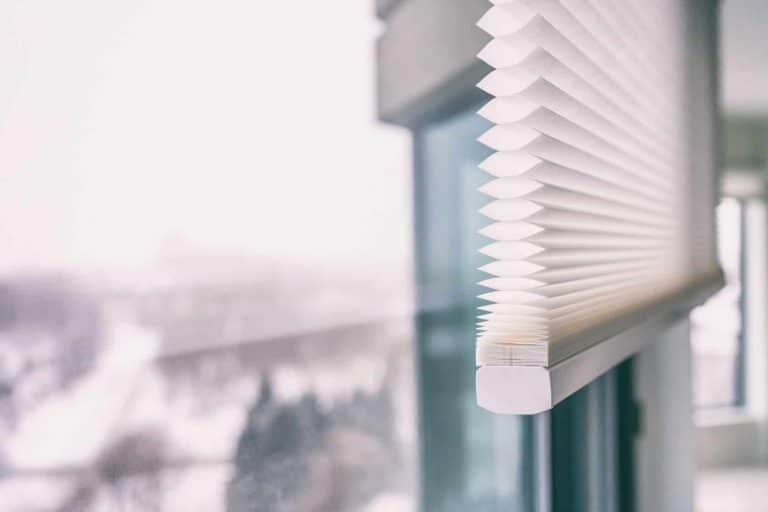 Also known as honeycomb blinds, cellular shades offer the maximum amount of insulation and energy efficiency.
The cellular shade's incredible insulation properties can be attributed to its accordion-like folds. These cross-sections create the honeycomb appearance that give the window treatment its name. Those layered pleats also create air pockets that add a layer of insulation to the window.
Honeycomb blinds top the list for energy efficiency because they not only block the summer sun, they also insulate the window. That means your expensive cooled or heated air stays inside where it belongs. No more heating or cooling the outdoors. Mom will finally be happy…
If your goal is blocking UV rays while still enjoying your view of the great outdoors, solar shades may be just what you're looking for. They're made of an opaque material, which is why you can still enjoy the view. At the same time, the material blocks the harmful effects of sunlight. So not only will solar shades lower your AC bill, they help protect your room's décor from damaging UV rays.
As an added bonus, no one outside your home can look in through the windows – during daylight hours, at least. At night, your interior lights make it possible for outsiders to see into your home. So, don't install solar shades in rooms where you want nighttime privacy. Or, add a secondary window covering, like draperies, to windows with solar shades.
Both vertical and horizontal blinds help keep sunshine out of the room, meaning your air conditioner doesn't have to work so hard. And, like shutters, blind slats are adjustable, giving you great control over how much sunlight enters the room.
Blinds don't offer much in the way of insulation, meaning they aren't a big help keeping your home warm in winter. But we didn't get the name Valley of the Sun because of harsh winters. If you live in the Phoenix-Metro area, blinds are a great choice to help keep rooms cool during the summer.
How to Maximize Your Energy Savings
For all of these window coverings, proper installation is a key component of lowering your utility costs. In addition, you want them custom-made to fit your windows. That's because a tight fit makes them more effective at insulation or blocking the sun's rays.
You can also maximize your energy savings by understanding how best to use your window coverings. In other words, don't just leave them open or closed all the time. During the winter months, open blinds and shutters to let the sun's warmth stream into your room. When temperatures are mild, open window coverings during the morning when you want to let in warmth and close them in the afternoon, when the sun's rays are strongest.
Your home's exterior also offers opportunities to save month. Consider installing awnings over windows – particularly those facing west or south. The shade from awnings can reduce "solar heat gain" through windows by up to 77 percent.
However, that also means less heat enters the home during the winter months. Again, not much of an issue here in Phoenix. But, if winters are harsher in your area, consider retractable awnings instead. Other options include awnings you remove in the winter and ones installed at an angle that allows winter sunlight, which also comes at a lower angle.
Finally, strategic landscaping – trees and bushes planted near windows – helps block the summer sun.
Schedule Your Free Consultation
Shutters & Blinds of Arizona offers free, no-obligation consultations. We'll tour your property and discuss your goals to come up with the best window treatment options for your unique needs and budget. Call 480-375-1381 today to get started.
Get A Free Consultation & Estimate
Contact Shutters & Blinds of Arizona today for your free estimate!
Contact Shutters & Blinds of Arizona for a Free Estimate
Shutters & Blinds of Arizona Serving
Phoenix, Glendale, Peoria, Sun City, Sun City West, Avondale…
Available Mon – Sat 8am – 7pm
Sunday by Appointment Only